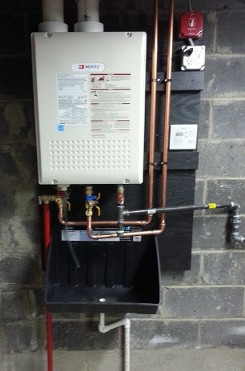 It's the holiday season and your peaceful suburban domicile is overflowing with houseguests. You need a nice, hot shower to soothe your nerves, but you're in line behind your in-laws and cousins. In times like these, you'll be glad you installed that new tankless water heater in your garage. The idea behind a tankless system is that it heats the water as you need it instead of continually heating water stored in a tank. Tankless heaters have been the norm in much of Europe and Japan for quite some time, but they haven't gained popularity until recently in the United States — largely due to the green movement. If you're a good candidate for a tankless system, you can save a substantial amount of money every year on your monthly bills while at the ­same time conserving natural gas. Tankless heaters also last about five to 10 years longer than a tank heater, take up much less space and provide you with an unlimited amount of hot water. On the downside, a tankless system can cost up to three times as much as a tank heater and often requires costly upgrades to your natural gas line and an expensive venting system. CLICK ON LOGO LINKS ABOVE FOR MORE INFO!! One of the most frequent processes in your home is the heating of water. Heating water can account for up to 30% of an average home's energy cost. Another hassle is to replace a water heater that is leaky or isn't working anymore. So what is the solution? A gas tankless water heater is not only more dependable giving you a warentee up to fifteen years; it can cut your energy bill by almost up to half of what you were paying before. This upgrade can also add value to your home while delivering the endless hot water you need on demand. The typical home goes through about 76 to 80 gallons of water per day. This includes 3-4 showers, a load of laundry, running the faucets 9-11 times and running a dishwasher after dinner. This might be considered overkill by some, but it is actually fairly accurate to a common family. With all of this water running through your home, a standard water heater can heat and reheat water all day long. This means that the water heater is going to run more, giving you a higher energy bill. 7 Reasons to have Palmasano Plumbing Install your Tankless
I am a Noritz Certified installer/repair technician
I have a 100% Price Guarantee. You will never over pay with Palmasano Plumbing!
I am a Experts & the Authority on Tankless Water Heaters
I get the job done right the first time out! because i am Factory trained by Noritz
I offer Same Day Installation on Tankless water heaters!
there is Never an extra charge for nights & weekends.
I offer a 1 year service warentee on all installs and the first 6 month service free!
Top 7 Reasons to Purchase a Noritz Tankless Water Heater
Save Money on Gas. It will pay for itself over years in gas Savings
Never ending hot water / Perfect when you have family in town
Lasts twice to three times as long as a Reg. Water Heater.
some city offer up to a $ 500.00 Rebate to go Tankless.
Saves space /Relocate it. Increases the resale value of home.
No tank, No pilot lite = No fire.
Warranty is best in the business 12 years. Commercial grade.
If you opt for a tankless water heater, the water is heated as needed. When you run a faucet, do a load of laundry, turn on your dishwasher or hop in the shower, the water is heated immediately giving you the exact temperature that you desire. This is extremely important because you don't have an energy-hungry appliance constantly running. Due to this innovation and streamlined service, the energy bill to your home goes down immensely. Are you tired of paying the costs of standard water heaters? Are you tired of running out of hot water? Do you want to bring down your energy costs and invest in a system that will deliver results? Tankless water heaters are one of the best investments you can make. By using this innovative heat exchanger, you will never be without hot water. Contact Palmasano Plumbing for any questions on the installation of a new system in your area.