Keep the hot water flowing with water heater repairs and installations from Palmasano Plumbing LLC in Ringwood, New Jersey. My services also include the installation and repair of boilers.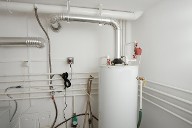 Repairs
My repair work covers both standard and tankless water heaters and boilers, and I am a certified repair technician for Noritz™. I specialize in home water heating and home space heating. I will clean all intake filters on tankless water heaters, then run clean solution through the heat exchanger to remove any debris or calcium buildup. I also check the gas pressure and adjust to manufacturer's specifications.
Installations
I complete water heater and boiler installations for residential and light commercial customers. You can choose from tankless water heaters, standard water heaters, standard boilers, and high efficiency boilers. For your peace of mind, I offer a one-year warranty on all labor.
Contact me in Ringwood, New Jersey, to learn more about water heater repairs.